Black Artist Paintings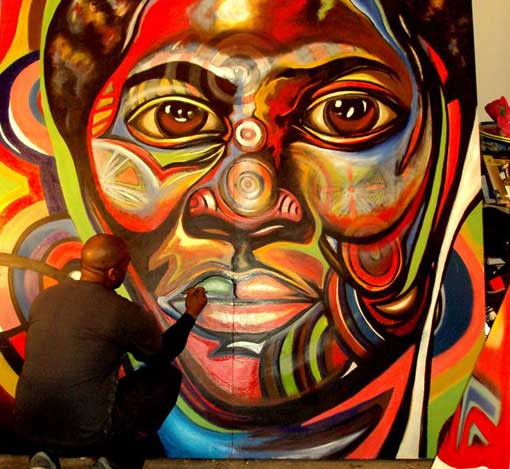 _______________________________________________________________________
AFRICAN AMERICAN ARTIST- ATLANTA, GA – COREY BARKSDALE work is continually inspired by African American culture and music.
_______________________________________________________________________
Celebrate Black History Month in Downtown Indianapolis
By Jennifer L. Hanson | Submitted On January 27, 2011

            
Experience living Black History on Indiana Avenue
Indiana Avenue is a powerful version of the American dream through an African-American lens. The Avenue is the historic African-American commercial, entertainment and worship center. Today's landscape is filled with enduring landmarks, a burgeoning university campus, contemporary residences and a lush waterway. Indiana Avenue truly is rhythm reborn. The rich heritage comes to life on stage, in public art, museums, art galleries, nightlife and in the church.

Also located on Indiana Avenue is the historic Madame Walker Theatre Center. The Madame Walker Theatre Center, housed in the historic Madame C.J. Walker Building, has long symbolized the spirit of creativity and community pride in Downtown Indianapolis. Celebrate Black History Month with the Walker Theatre by joining Freetown Village for an evening dinner theatre called "This Little Light" on Feb. 18. Enjoy live music and a lesson in history at this living history museum. Also join the Madame Walker Theatre for Jazz on the Avenue Feb. 25 in the Ballroom for live jazz and cocktails. Call 236.2099 for more information.

Art & Soul at the Indianapolis Artsgarden
Don't miss more than 18 FREE performances throughout the month of February as part of the 15th annual Art & Soul in the Indianapolis Artsgarden, which kicks off Jan. 27. This annual celebration of African-American art and artists celebrates Black History Month. The performances feature a broad range of musical, dance, spoken word, poetry and living history from both established and emerging artists. Highlights throughout the month of February include Billy Wooten Jazz Trio, Gregg Bacon, June Rochelle, the Asante Children's Theatre and many more. For more details and a schedule of events call 631.3301 or visit the Indy Arts Web site.

Learn about black history
Join The Children's Museum of Indianapolis as black history comes alive during the month of February. Don't miss Target Family Night Feb. 3 from 4 - 8 p.m. Celebrate African-American heritage and achievements in history, science, art and music FREE of charge. Experience a slave's flight to freedom and learn to navigate using the Big Dipper during Follow the Drinking Gourd starting Feb. 1 at 11 a.m. On Feb. 3, 5 and12, celebrate Black History Month in Lilly Theatre with vignettes exploring the lives of Levi Coffin and Madame C.J. Walker at 6:30 p.m. on Thursday and 1 p.m. on Saturday. To learn more, call 334.3322.

In celebration of Black History Month, the Indiana Historical Society and Indianapolis-Marion County Public Library (IMCPL) invite children and families to learn about Indiana's rich African-American history by participating in the Indiana Black History Challenge. The Indiana Black History Challenge is a contest that invites participants to investigate famous African-American Hoosiers and their contributions to society. The 10-question challenge can be taken online beginning Feb. 1. Printed game cards will also be made available at the beginning of February at the Eugene and Marilyn Glick Indiana History Center, as well as all branches of the IMCPL.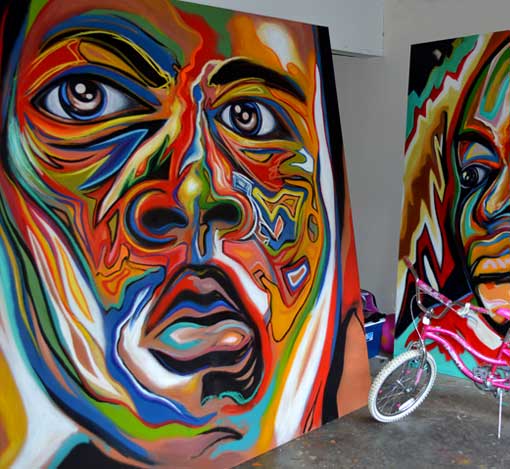 The first 5,000 entrants to the Indiana Black History Challenge will receive a prize. All participants who complete the challenge and answer all questions correctly are entered into a drawing for the grand prize and runner-up awards. The grand prize is a Family Fun Pack that includes an overnight stay at the Omni Severin Hotel in Downtown Indianapolis; four tickets to special exhibitions at the Indianapolis Museum of Art; a $25 gift certificate to Weber Grill Restaurant and a family membership to the Indiana Historical Society, which includes free admission to the Indiana Experience for a year. One winner from each IMCPL branch and the History Center will receive a runner-up prize of a family four-pack of tickets to an Indianapolis Indians game. For more information, contact the IHS at 232.1882.

The Indianapolis Museum of Art's (IMA) Hard Truths: The Art of Thornton Dial exhibition will open Feb. 25. As an artist, Dial explores the truth of American history and culture in all its complexities and contradictions. This exhibition includes more than 50 pieces of Dial's work that range from sculptures to paintings and that address some of the most compelling issues of our time. Find out more information on the exhibition call 923.1331.

Visit the Indiana State Museum for their "African Americans in Indiana" gallery search starting Feb. 1 to uncover the rich culture and contributions of Indiana's black communities. Meet President Lincoln on Feb. 12 and enjoy period music and activities or see Martin Luther King Jr.'s speeches in the Legacy Theater through the end of March. Call 232.1637 for more information.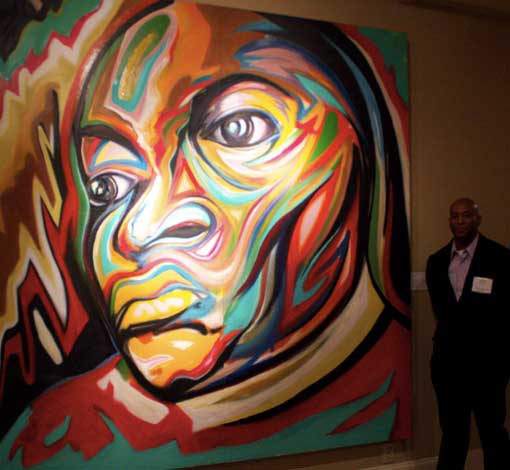 The Eiteljorg Museum of American Indians and Western Art will host the 4th Annual Leon Jett Memorial Lecture featuring Dr. Quintard Taylor, professor of American History at the University of Washington, on Feb. 19 at 1 p.m. Taylor will discuss how African Americans helped shape and develop the American West. A new exhibit that is partnered with the Smithsonian National Museum of the American Indian called Red Black: Related Through History will open Feb. 12. Red Black will showcase the interactions between early black slaves and Native Americans. Call 636.9378 for more information.

Head over to the Garfield Parks Art Center for "Black Pearls": An Artistic Celebration of Black History Month starting Feb. 5. The FREE exhibit showcases African and African-American artists and will display sculpture, drawing, painting and ceramics. Hands on creative family activities will take place every Saturday and Sunday throughout February. Hours for Garfield Parks Art Center are Tuesday - Thursday 2 - 9 p.m., Friday 1 - 5 p.m., Saturday 9 a.m. - 5 p.m. and Sunday 1 - 5 p.m. For more information call 327.7135.

Black History performances
The Indiana Repertory Theatre (IRT) presents Charlayne Woodard's Going Solo: Neat from Feb.10 - March 6. In this sequel to Woodard's "Pretty Fire," teenaged Charlayne encounters boys, high school, civil rights and her own vivid imagination, all while learning to live with her disabled aunt, Neat. Tickets, show information and a schedule of consortium events are available by calling 635.5252.

Join the Indianapolis Symphony Orchestra for the 26th Anniversary Celebration of Black History Concert Feb. 8 at 7:30 p.m. The ISO's annual concert celebrates the significant impact of African-American culture on classical and symphonic music as well as the superb artistry and creativity of black artists, composers and conductors. This year the concert will be conducted by an Indianapolis audience favorite, Thomas Wilkins. This event is FREE and open to the public. Doors open at 6:30 p.m. for general seating. Call 639.4300 for more information.

For a complete calendar of events, call Indianapolis Downtown, Inc.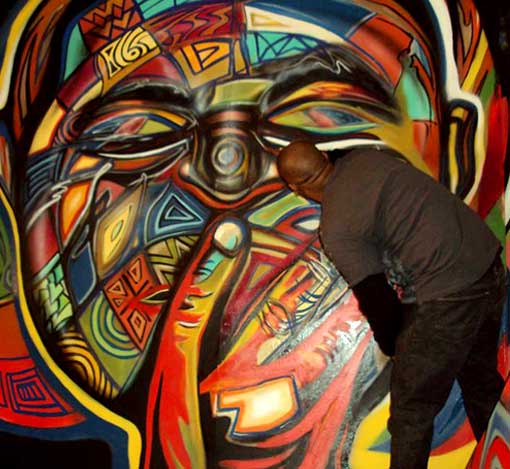 _______________________________________________________________________
AFRICAN AMERICAN ARTIST- ATLANTA, GA – COREY BARKSDALE African American cultural art. Atlanta muralist painter.
_______________________________________________________________________
Black History Month Has Come and Gone, But Not the Artists
By CharLena M. Pearson | Submitted On March 03, 2010
            

Once again, black history month has come and gone, but thankfully not the art or the artists. This year it didn't seem as though the usual speeches were trotted out to make the people of Black America proud to be black. That in itself was a gift. Instead we were all treated to new ways to be proud to be Americans that happen to be from the African Diaspora. If you watched channel 5, there was Wendy Williams who talked about a famous black inventors or filmmakers or scientists. Sure there have been other people, like Ruby Dee and Ossie Davis on Channel 7 who have spoken about other accomplishments in the past, but it was nice to see someone smiling at us instead of being somber about the greatness that runs through the Diaspora.

This year I had the privilege to go to an artist opening at the Dwyer Cultural Center up in Harlem. It was for invited guests only the evening before the actual opening to the public. There was of course the press from The Amsterdam News and other archivist with cameras to take note of the painters and their brand of art. It could be said that the glitterati of Manhattan Valley was there. I noticed at least ten different people who are members or go on a regular basis to Riverside Church.

One of the artists invited me to this wonderful event and I was able to talk to him in depth about his work and how he came to be an artist. After more than 25 years in academia, as a high school teacher, he decided to go back to his first love, art. His name is Robert Daniels. As a young boy he started off using whatever he could get his hands on to draw in the kitchen while his mother was cooking dinner. Often when his mother was not at home he scoured her room for lipstick to use as his colored pencils and draw on whatever was not nailed down.

Mr. Daniel's art has developed from the early days of using chalk and lipstick to going on to using Photoshop and everything else in between. His artwork is gorgeous to say the least. Mr. Daniels is a part of the Weusi* Group, in which 12 of the 50 members is being showcased now through September 3rd 2010. Starting after September 4th or so another 12 will be on display to show off their wonderful talents. At the Dwyer there is a 20 minute short that showcases the present artists in the show and how they became affiliated with the Weusi Group. It can also be seen on their website via YouTube. Weusi is a Swahili word which means both blackness and togetherness, quite poignant for the art that is on display.

I met several other artists there as well, part of the Weusi Revisited: 2010 series. Emmett Wigglesworth, Okoe Pyatt, Otto Neals, Perry Cannon, and Gaylord Hassan. Mr. Hassan, walks with a walker, but still manages to produce gorgeous canvases almost twice his height of 5'- 10". Perhaps you know of them and their works, if not check them all out at the Dwyer Cultural Center. You will not be disappointed.

Most of the artists have had to lead a completely different life from being an artist, but is shows that through persistence and determination, their natural abilities had to shine through. That, I think, is most what Black History Month wants to proclaim. These artists are doing their best to do just that. To see a full length, in depth interview with Mr. Daniels check out Maxine's Corner, which will launch on Monday, April 26th as an Internet TV blog, hosted by this author, CharLena Pearson.
_______________________________________________________________________
AFRICAN AMERICAN ARTIST PAINTINGS - ATLANTA, GA – Visual artists play a key role in creating positive depictions of the African American experience. Large scale fine art paintings.
_______________________________________________________________________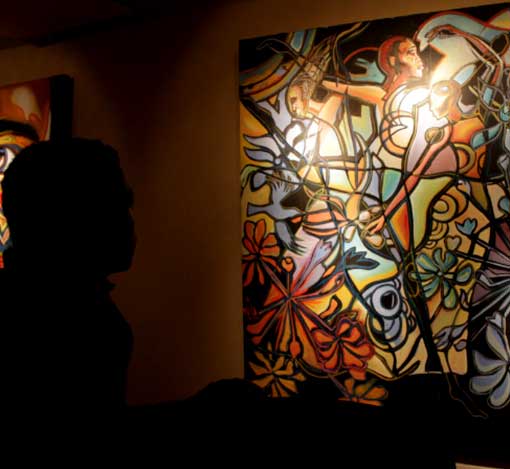 _______________________________________________________________________
AMERICAN POST-MODERN ARTIST- ATLANTA, GA – COREY BARKSDALE work is continually inspired by African American culture and music. Mural artwork in Atlanta
_______________________________________________________________________
His Most Famous Painting - Black Square by Kasimir Malevich
By Annette Labedzki | Submitted On September 08, 2009


Russian 'Suprematist' painter, art theoretician, and the frontrunner of 'Geometric Abstract Art,' Kazimir Severinovich Malevich or Kasimir (or Kazimir) Malevich (1878-1935), was born near Kiev, Kiev Governorate of Russia. He joined the Moscow Institute of Painting, Sculpture and Architecture in 1903. In his earlier days, the creator of "Black Square" (1915), Kasimir followed 'Impressionism' as well as 'Fauvism,' Picasso and Cubism influencing him later. Impressed, Malevich led the 'Russian Cubist Movement.' In 1912, he took part in the exhibition Donkey's Tail, where he showed his 'Neo-Primitive' works. By the end of 1912, he participated in the fifth exhibition of the Union of Youth, in St. Petersburg, where he showed 'Woman with Buckets and Child' (1912), 'Scythe-Man,' 'Harvester,' and the 'Head of a Peasant.'

In 1913, Kasimir founded his own painting style, which he named as 'Suprematism.' 'Suprematism' involved creating 'Abstract Geometric' patterns. Later, he created 'Black Square' his first 'Suprematist' and most famous painting, which according to the artist, "Conveyed the supremacy of pure feeling in creative art." Kasimir Malevich's painting is the most creative and beautiful painting in Russian art history. He painted different types of "Black Square," during 1915-30s. The variety was created not only in the terms of sequences or in the years of painting, but also in color, style, texture, and presentation. Each time Malevich's concept was unique and bore no similarities with the previous versions.

The first and original "Black Square" was created in 1915. The same year this oil on canvas painting, sized 106.2 cm x 106.5 cm (41 3/4" x 41 7/8"), was showed at the Last Futurist Exhibition 0,10 in Petrograd. The painting shows a black square, measuring approximately two and a half feet, against white background. This "Black Square" became the identifying symbol of 'Suprematism.' This painting is presently available at the State Russian Museum, St. Petersburg, Russia.

In 1923, Malevich created his second "Black Square," in association with his close disciples Konstantin Rozhdestvensky, Anna Leporskaya, and Nikolay Suyetin. It was for a triptych, which also included Cross and Circle (now at the State Russian Museum in St. Petersburg). The "Black Square" was one of the most basic geometric forms and was therefore, not considered a marvel anymore.

In 1929, Kazimir Malevich created the third "Black Square," following the appeal of Aleksey Fedorov-Davydov, Assistant Director of the Tretykov Gallery, Moscow, to replace 1915 Square, due to its poor condition. This square was the ''blindest,'' and the most ''hopeless," with thickly coated black paint. This one had no similarity with the first "Black Square" Malevich created in 1915.

Kazimir Malevich's last " Square" was the smallest of all and touches upon the pattern of red and black, which was significant to the artist. This painting was created probably for the exhibition Artists of The Russian Soviet Federative Socialist Republic (RSFSR), held in Leningrad in 1932. The 'Square Red and Black' was the showpiece of his exhibition in the show. The last square created by Kasimir Malevich were not handed over to the Russian Museum but was kept by his family.

Annette Labedzki received her BFA at the Emily Carr College of Art and Design in Vancouver, B.C. Canada. She has more than 25 years experience. She is the founder and developer of an online art gallery featuring original art from all over the world. It is a great site for art collectors to buy original art. Is is also a venue for artists to display and sell their art . Artists can join for free and their image upload is unlimited. Please visit the website at http://www.Labedzki-Art.com.

Annette has bonus offers on her work only. Buy 2 paintings of any size and receive 1 painting of your choice for free of equal size and value. Shipping is free in Canada and the US on smaller items. Please feel free to subscribe to her newsletter at http://www.Labedzki-Art.com.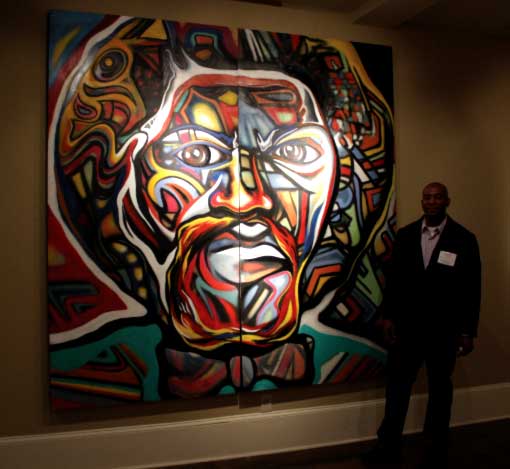 _______________________________________________________________________
AMERICAN POST-MODERN ARTIST- ATLANTA, GA – COREY BARKSDALE work is continually inspired by African American culture and music. Mural artwork Atlanta
_______________________________________________________________________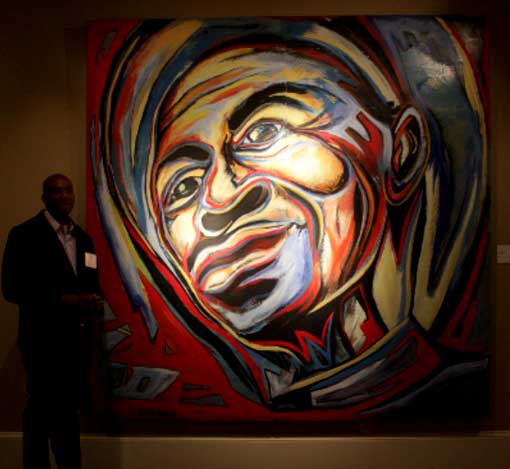 _______________________________________________________________________
AFRICAN AMERICAN ARTIST- ATLANTA, GA – COREY BARKSDALE art painting exhibition. _______________________________________________________________________
African American Art Gallery
_______________________________________________________________________

AFRICAN AMERICAN ARTIST- ATLANTA, GA – African-American artists have exquisitely shared portrayals of historic events and individuals through fine art paintings.
_______________________________________________________________________

Top Collectors and Power Brokers of Black Art

Bernard Kinsey has served as past president of the FAMU-NAA. Bernard and Shirley Kinsey have contributed more than $350,000 in grants and gifts to FAMU. They reside in Pacific Palisades, Calif.
The Kinsey Collection contains more than 100 original and authentic historical artifacts, documents and works of art that tell a story of the African-American experience from the 1600s to the present


Dr. Walter O. Evans, named one of 'America's Top 100 Collectors' by Art & Antiques magazine
The Walter O. Evans Collection of African American Art spans more than 150 years of African American art and includes prized pieces by Bannister, Duncanson, Bearden, and Hunt. His collection contains over 500 pieces.


Robert L Johnson
Johnson is known for the cable channel that he founded, BET. Since the early 1980s Johnson, has assembled some 250 pieces by 19th- and 20th-century African-American artists.
Johnson's collection includes some of the most famous names in Black art.




Mrs. Vivian Hewitt, a New Castle native was the first black librarian in Pittsburgh. She made a mark in the world of African-American art with her late husband, John.
Through their travels, family connections and friends in New York, they amassed one of the most renowned collections of African-American art, which today serves as the cornerstone of the Harvey B. Gantt Center for African-American Arts+Culture in Charlotte, N.C.



Bill and Camille Cosby
William Henry "Bill" Cosby, Jr. is a comedian, actor, author, television producer, educator, musician, activist, and major Black art collector.

Paul R. Jones ( deceased, 2010)
Once considered one of the Top 100 art collectors in America.
Jones amassed an important collection of Black art with over 2,000 pieces. A selection of his collection made its public debut in a 1993 exhibition at the University of Delaware. In 2001 Jones donated hundreds of the more valuable works to that University with several stipulations for how the school should leverage it to provide more opportunities for black students and art professionals. In 2008 he donated most of his remaining collection, 1,700 works, to the University of Alabama. Dr. Amalia Amaki is the Curator of the Paull R. Jones Collection of African American art at the University of Alabama at Tuscaloosa.


Grant Hill
Grant Henry Hill is an American professional basketball player
Hill owns a substantial collection of African-American art, centering on the work of Romare Bearden andElizabeth Catlett. A selection of 46 works from the collection were featured in a touring exhibition at a number of American museums from 2003 to 2006. The exhibition was last shown at the Nasher Museum of Art at Hill's alma mater, Duke University.

Dr. Harmon and Harriet Kelley, major collectors of African American Art since the mid-1980's


Darrell Walker is an American professional basketball coach and retired player. Mr. Walker is also a major collector of Black art.


Elliot Lamonte Perry is a retired professional basketball player in the NBA, and a major collector of Black art.


David C. Driskell, artist, collector, and emeritus professor of art history, University of Maryland at College Park.


Robert E. Steele, PhD, has been the Executive Director of the David C. Driskell Center for the Study of the Visual Arts and Culture of African Americans and the African Diaspora at the University of Maryland, College Park since 2004. He is noted as one of the worlds Top Black art collectors.


Reginald Van Lee
Reginald Van Lee is an Executive Vice President with Booz Allen Hamilton where he leads the firm's healthcare business and its not-for-profit business.
Mr. Lee is a board member of the Studio Museum in Harlem.



John T. Thompson '81
Chairman and CEO
Thompson Distribution Company
Indiana
Mr. Thompson is a Board member of the Studio Museum of Harlem.


Rodney M. Miller Sr.
Managing Director of Mergers & Acquisitions Group
J.P. Morgan
JPMorgan Chase & Co.
One of the Top 75 Most Powerful Blacks on Wall Street.
Board Member of the Studio Museum Harlem.



Raymond McGuire is the Co-Head of Global Investment Banking, based in New York. He has responsibility for managing the coverage of global industries and clients and executing strategic transactions. Mr. McGuire is a member of the Institutional Clients Group Management Committee and the Institutional Clients Group Business Practices Committee. He is also a member of Citi's Senior Leadership Committee. At Citi, McGuire has advised on transactions valued at more than $200 Billion, including representing Time Warner in its separation of Time Warner Cable ($45.0 Billion).
Mr. McGuire serves on several boards including the Studio Museum in Harlem (Chairman of the Board.)


Tracy V. Maitland
President and Chief Executive Officer
Ranked one of the Richest African American in the World.
One of the 75 most powerful African Americans on Wall Street.
Board member of Studio Museum Harlem.

Nancy L Lane
Served for twenty-five years with Johnson & Johnson, Her career also includes heading MBA and Executive Recruitment at the Chase Manhattan Bank, a position with an international student organization in The Netherlands and serving as Deputy Director of Human Resources for the National Urban League. Currently she is on the Board of Directors of The Studio Museum in Harlem.


George L Knox
Retired vice president, corporate affairs for the Phillip Morris Company (now Altria Group, Inc.)
Knox is a member of and formerly chairman of the board of the Studio Museum in Harlem.



Sandra Grymes
Among her many accomplishments Ms.Grymes held five top level positions at Planned Parenthood, moving from the positions of director of long range planning, director of special projects, and, finally, marketing director. Ms. Grymes is a board member of the Studio Museum Harlem, adjunct professor, and served as a senior deputy commissioner in NYC.


Gates on the left wearing glasses.
Henry Louis "Skip" Gates, Jr., (born September 16, 1950) is an American literary critic, educator, scholar, writer, editor, and public intellectual. He was the first African American to receive the Andrew W. Mellon Foundation Fellowship. He has received numerous honorary degrees and awards for his teaching, research, and development of academic institutions to study black culture. In 2002, Gates was selected to give the Jefferson Lecture, in recognition of his "distinguished intellectual achievement in the humanities".
Gates has hosted several PBS television miniseries, including the history and travel program Wonders of the African Worldand the biographical African American Lives and Faces of America. Gates sits on the boards of many notable arts, cultural, and research institutions. He serves as the Alphonse Fletcher University Professor at Harvard University, where he is director of the W. E. B. Du Bois Institute for African and African American Research. Gates is a board member of the Studio Museum Harlem.

Susan Fales- Hill
TV. producer,writer, actress and board member of the Studio Museum Harlem.

Reginald E Davis
Company: Wachovia Corporation
Position: Head of the Northern Banking Group
Industry: Financial Services
Country: United States

Named as one of the "Top 75 Most Powerful African Americans" by Black Enterprise magazine.
Board member Studio Museum Harlem.


A partner in Venable's real estate group, Gordon J. Davis has more than four decades of experience advising public and private clients in connection with some of the most significant development projects in New York City. He is also a board member of the Studio Museum Harlem.


Joan K. Davidson

Joan K. Davidson, president emeritus of the JMKaplan Fund and president of the Fund's Furthermore grants in publishing. Born into a wealthy family, she is a board member of the Studio Museum Harlem.


Amelia Ogunlesi, Teri Trotter, Thelma Golden, Jacqueline L. Bradley, Kathryn C. Chenault, Joyce K. Haupt and Carol Sutton Lewis.
The above photo is a picture of board members of the Studio Museum Harlem with director and curator Thelma Golden.
Not pictured here, Arthur J Humphrey Jr. is a board member of the Studio Museum Harlem, as well.


Kathryn Chenault and Kenneth I. Chenault
Kenneth I. Chenault is president and chief operating officer of American Express and a member of the Council on Foreign Relations. Ranked one of the Richest African American in the World.
Kathryn Chenault, presently serves on various boards including the Studio Museum of Harlem. She is a retired attorney.


Valentino D. Carlotti, works in the Institutional Client Group of Goldman Sachs' securities division.
Mr. Carlotti serves as a board member of the Studio Museum of Harlem.


Charles A. Shorter, Executive Director in the Transaction Advisory Service practice for Ernst and Young LLP, is a Trustee of The City University of New York. Mr. Shorter initially voted against an honorary degree for Tony Kushner, because Mr.Kushner has been critical of Israel.
Mr. Shorter's longstanding community involvement includes service on the board of the Studio Museum in Harlem.

Anne Ehrenkranz is an art collector and a philanthropist.
Former board member, the Studio Museum in Harlem
Note: Donated untitled piece by Kara Walker to the Studio Museum Harlem.


Ranked #2nd Top American Art Collector
Ranked #5th Top Art Collector in The World:
Paul Allen
Location:
Seattle
Employment:
Co found Microsoft
Founder and Chairman of Vulcan Inc., owns NFL, NBA, MLS teams
Art Collection:
Collects impressionism, Old Masters; modern and contemporary art; tribal art.
On October 26, 2008, Paul Allen was given the Herbie Hancock Humanitarian Award from the Thelonious Monk Institute of Jazz for his "visionary achievements as a businessman and a global philanthropist."
Allen has also funded the purchase of many Jimi Hendrix artifacts, including the guitar Hendrix played at Woodstock, and ensured their public display in the Experience Music Project exhibits.
A report in February, 2012, named Allen as the most charitable living American in 2011. Allen's donations, totaled $372.6 million.


Ranked #62nd Top Art Collector in The World:
Antoine de Galbert
Location:
Paris
Employment:
Inheritance
Art Collection:
African Art, Primitive art; contemporary art

Ranked #113th Top Art Collectors in The World:
Thomas H. Lee and Ann Tenenbaum
Location:
New York and East Hampton, New York; Lincoln, Massachusetts; Palm Beach, Florida
Employment:
Investment banking
Art Collection:
Modern and contemporary art; photography, Egyptian Art.
Note: Ann Tenenbaum is a board member at the Studio Museum Harlem.


Ranked #115th Top Art Collector in The World:
Joe Lewis
Location:
Nassau, the Bahamas
Employment:
Finance, investments, and currency trading. Worth 3.2 billion.
Art Collection:
Modern art, Ancient Egyptian artifacts.
A friend of Tiger Woods, and wealthy enough to have Ancient Egyptian artifacts among his personal collection.


Ranked #117th Top Art Collectors in The World:
Adam Lindemann and Amalia Dayan
Location:
New York
Employment:
Private investments
Art Collection:
Contemporary art; African art; 20th-century design


Ranked #125th Top Art Collector in The World:
Allan Majotra
Location:
Californian
Employment:
investment banker
collects non-Western contemporary art, in Spain.
Art Collection:
His non-conventional collection emphasizes famous and emerging Asian and African contemporary artists. He also collects outsider art, including works by contemporary non-traditional artists, such as architects and designers.


Ranked #126th Top Art Collectors in The World:
Sherry and Joel Mallin
Location:
New York and Pound Ridge, New York
Employment:
Investments
Art Collection:
African American art, Modern and contemporary art, especially sculpture.
Note: Donated portrait of Ornette Coleman by Frederick J. Brown to the National Museum of American History.

Ranked #146th Top Art Collector in the World:
George Ortiz
Location:
Vandoeuvres, Switzerland
Paris, France
Employment:
investments
Art Collection:
collects antiquities, tribal art, including African, 15th century italian art, 18th century European art

Michael Ovitz and Wife Judy

Ranked #147th Top Art Collectors in The World:
Judy and Michael Ovitz
Location:
Los Angeles, California
Employment:
entertainment
Art Collection:
collects contemporary art, Ming furniture, modern paintings, African art
owns an early 20th century Abua water spirit mask from Nigeria



Ranked #175th Top Art Collectors in The World:
Mera and Donald Rubell
Location:
Miami; New York; Washington
Employment:
Medical practice (retired), education, real estate, and hotels; own public contemporary-art foundation The warehouse collection in Miami, contains 1,500 pieces by artists including Keith Haring, Peter Halley, Damien Hirst, David Salle and Cindy Sherman, as well as locals such as 62-year-old African-American folk artist Purvis Young (deceased), a representation of every major influence in contemporary art over the last three decades.
Art Collection:
Contemporary art


Ranked #180th Top Art Collectors in The World:
Ida and Piet Sanders
Location:
Schiedam, the Netherlands
Employment:
Law practice (retired)
Frequently donate large portions of their collection to Dutch modern art museums. Piet Sanders is interested in architectural models often donating models and other things he has purchased to the NAI. Sanders regularly offers items from his collection to supplement the NAI's own strategic acquisitions
Art Collection:
Modern and contemporary art, especially sculpture; African art.


Ranked #208th Top Art Collectors in The World:
Toby and Joey Tanenbaum
Location:
Toronto; Naples, Florida
Employment:
Real estate and hydroelectric power
Art Collection:
African art; naive art; Mayan art


Agnes Gund and Daniel Shapiro
Top 40 New York Art Collectors
President Emerita, MoMA.
Art Collection:
Contemporary art, African art, Chinese art


_______________________________________________________________________

African American Art Gallery - Collecting Black Art

_______________________________________________________________________

Atlanta Muralist - Discover the perfect large scale mural painting on canvas or masonite for your creative wall space at your home or office.
________________________________________________________________________

________________________________________________________________________

AFRICAN AMERICAN ARTIST- ATLANTA, GA – COREY BARKSDALE fine art gallery paintings of southern musicians,
________________________________________________________________________


_______________________________________________________________________

AFRICAN AMERICAN ARTIST- ATLANTA, GA – Images for african american artist painting
_______________________________________________________________________