Wall Art Murals & Street Art Drawings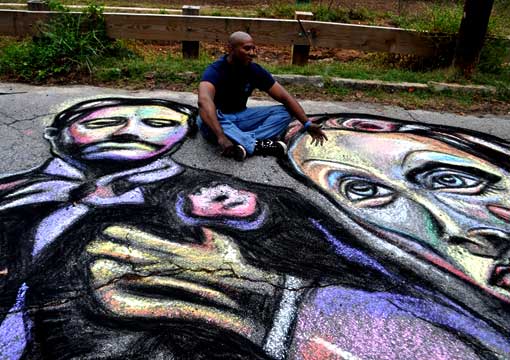 Street Artist Chalk Drawing Art
(Atlanta, Georgia)
How to Decorate a Large Living Room Wall With Art By M. S. Adams
When decorating a home, one of the most difficult jobs is choosing wall art. This is made more difficult when trying to fill a large wall in your living room with art. Your living room is a great place to let people know what your interests and tastes are. The living room is often the centerpiece of your home decor and so making this room look good and reflect your personality is important. So what to do about this Large Bare Wall in your living room. There are several ideas to explore.
1. Do you have a theme or style? Are you going for a specific style or theme idea, for example modern art, historical art, photography, vintage ads, cultural art?
2. Is there a color scheme? Is this large wall going to be the same color as the rest of the walls in the room? If you are going to make this wall the focal point of the room, you might want to use a contrasting color. This will make the wall stand out and the art on this wall will stand out as well.
3. Will there be furniture against this wall art? This is important because it can help with your wall art size choices. If there is a large buffet against this wall you can get away with some smaller pieces. A couch, maybe some medium size pieces. After you have come up with some answers for these few questions then we can start to explore some options. Large Wall Art A very large painting can always look great on a large living room wall but they can prove to be very expensive and hard to choose. Finding the right color and theme crucial choices. If you are decorating in a country home style, you probably don't want to hang a large vibrant colored piece of abstract art.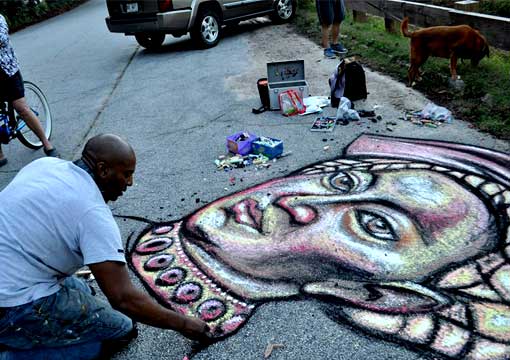 This sure could work if you have modern furnishing with muted colors. So if you have a piece in mind already, great! If not, let us move along. A Multi Paneled Painting or Photograph Finding a single large piece of art has many challenges to it. What I think works very well is a 3 or 4 panel triptych piece of wall art. This is a great way to cover a large space with a pre arranged idea. You can easily find large 3 panel photographs or paintings online. The artist or photographer has already set the theme so it is just a matter of finding the right subject matter or colors.
One of the reasons I like photographs is that it is easy to find the right colors to go in your living room in almost any subject matter. If you are really stuck, black and white photos always look elegant and go with anything. The other reason the multi paneled approach works well is that the panels are separated with a small space so that they blend in with wall color better. Collection You can also put together your own collection of family photographs or wall art of a similar theme. Just remember you don't want to put a small pictures on a large wall unless there are many of them arranged to take up a large space. 3 or 4 rows of family photos with same or similar frames but in different sizes can make a nice casual display. Metal Wall Art Metal Wall Art is another popular option. Metal wall art comes in all shapes and sizes and can be quite elegant.
You can also use metal wall art in conjunction with other wall art, Candle holders and sconces. One thing to keep in mind about large metal wall art is that it can be quite heavy. You will need to install the appropriate hooks and wall anchors for the weight of the piece. Large Themed Display Another idea that can work well is a themed display or collection of items that tell a story. For instance, lets say you enjoy Japanese artifacts. You could display a large Kimono or screen painting on the wall with decorative fans or smaller prints to create a large display. You can do this with almost any theme if you think about it.
Decorating your large living room wall with art can be a daunting task, but with a little time and imagination you can create your own style and tell your own unique story. You can find Beautiful Landscape Photographs as well as Nature Photos, Seascape, Beach Scenes, Cityscape, Sunset Pictures and much more at http://landscapephotographyshop.com.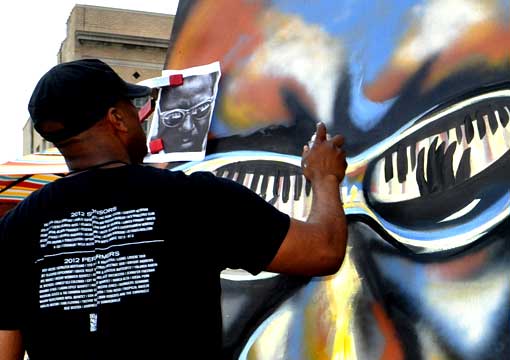 Street Artist Chalk Drawing
(Atlanta, Georgia)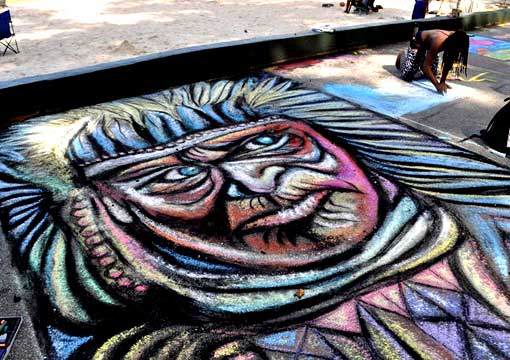 Street Art Painting
(Atlanta, Georgia)
The Benefits of Painted
Wall Murals
By Steve Valentino
Wall murals are a creative and fun way to liven cold, bare walls. And the best part: anyone can do them--you don't have to be an artist. You can design your own wall mural using your imagination, artwork, greeting cards, or picture books. You can purchase a wall mural stencil kit to help you, or you can find a local artist to design and paint the perfect wall mural.
Painting a wall mural is not difficult, but it does take some work. Before you begin, tape off your woodwork and cover your furniture and carpet to protect them from accidental spills. Depending on the condition of your wall, you may want to apply a neutral base coat to the area where your mural will go. Interior latex paint is a good bet, but you should talk to a paint specialist at a home improvement store to make sure it will work for you. You can use interior latex paint in large blocks of color inside the wall mural, but acrylic paints work best for the mural's small areas. Acrylic paints are thin and will probably take more than one coat to get the right color.
You will need a variety of brushes for your painted wall mural. Large, broad brushes are best for wide areas of color. Small, rounded brushes are best for small areas. Don't be afraid of getting messy. Mix the colors with your fingers, sponges, or clothes. Faux finishes can make a painted wall mural unique. Many are easy for beginners. Experiment with some techniques on extra drywall before you start painting your wall mural. Use joint compound and paint to create a fossil rock look or to make a stencil pop from the wall.
Get instructions and other ideas from painted wall mural Web sites, or check out the paint center at your home improvement air. Start with simple techniques, be creative, and have fun. Wall Murals Info [http://www.WetPluto.com/A-Guide-to-Tropical-Wall-Murals.html] provides detailed information about Tuscan, painted, and tropical wall murals, wall murals for children, wall mural stencils and kits, and more. Wall Murals Info is affiliated with Original Content Web [http://www.WetPluto.com/].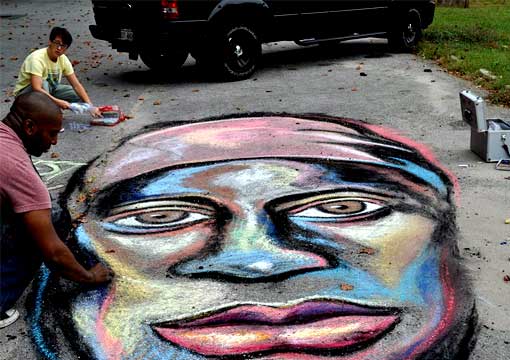 Wall Murals - A Wall in Every Room By Barbara Tobiasz Expert Author Barbara Tobiasz
I got a call from some friends of mine the other day. Jake and Diane are a married couple with 3 kids, Sarah (16 years old), Jordan (11 years old) and Emily (7 years old). They invited me over to take a look at their newly remodeled home. They had been working on this project for about 2 1x2 years and finally finished the entire house. They are proud of the work they had accomplished and are now inviting friends and family over to show off their finished product. So today was my turn to drop by and see what kind of decorators they turned out to be and of course compliment them on a job well done. I arrived around 12 noon and rang the doorbell. Diane came to the door and invited me in.
Over to the left of the entrance way is the living room. As soon as I walked in I was awe struck by the far wall. They had hung a full wall mural called Treasury of Splendor. This mural is an artist rendition of a narrow river with a white wooden bridge crossing from one side to the other. Meanwhile there is lush foliage on both sides of the river's shore. The colors are that of early fall with green, gold, yellow, orange and red leaves in an array that only nature could create. The fall wild flowers are in full bloom. There are tall trees in the background and in the foreground in the river are 2 white geese floating on the river water. Needless to say they had decorated the room in a fashion equal to the beauty of that mural.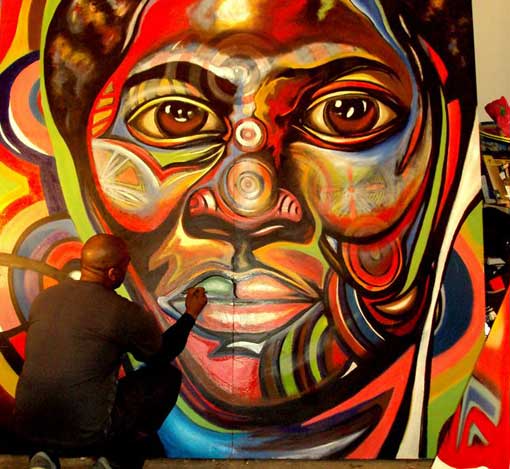 From there we met up with Jake in the family room. This room is what they call their entertainment center. On the far wall was a large flat panel TV and below the TV was an oak cabinet chock full of audio and video home theatre electronic components. A large micro fiber sectional sofa in a curved pattern was positioned just far enough away from the TV (about the middle of the room), so that the surround sound speakers on all 4 corners of the room could be heard with peak precision. With oak bookshelves and 2 oak tables with matching chairs and curtains in multi-colored earth tones, the only thing left to say was... Yes, this room also has a beautiful wall mural. This mural is an artist's rendition of urban city with skyscrapers superimposed on each other.
This time the colors are magnificent shades of browns, golds, maroons, black, yellow, gray and white. This is modern urban art tastefully done. So now they ask me to follow them into the kitchen. Here the cabinets are oak in a honey finish. All the counter tops are granite in a medium brown. The walls above the counters are mosaic mural tiles that picture fresh fruit platters and wine bottles. The kitchen table and chairs are constructed of mahogany with a finish close to the same finish of the cabinets. There is a stainless steel island counter in the middle of the kitchen with a small sink and a cutting board inserted into the top next to the sink. Above the island is a chandelier hanging pot rack.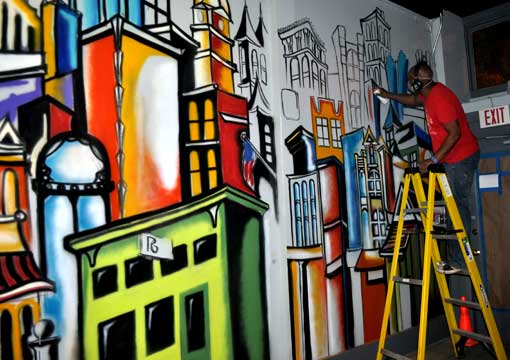 This lighted pot rack also illuminates the island counter to shed light when preparing meals. Did I mention the mural on the far wall of the kitchen? Now this is stunning and I will explain why. First, just so you know, the name of this colorful mural is Courtyard View. This is an artist's rendition of a tropical sea shore view of a cobblestone courtyard with lush foliage. Absolutely amazing potted flowers in full beautiful deep colored shades of red, pink and deep orange line the courtyard leading to a white linen tablecloth covered round table and chair. Sitting in the middle of the table is a bottle of wine and a pitcher of fruit punch. In between the lavish potted flowers are lush green leaf plants lining the way down the courtyard. In the distant background is a palm tree shoreline with mountains rising out of the sea.
Wow, does this mural make a striking impression when you enter the kitchen. Need I say more? From the kitchen, Jake and Diane lead me back to the stairway by the front entrance and we all head upstairs to Sarah's bedroom. This bedroom is all done up in shades of lavender and pink. The bed is a white wood framed canopy bed with a white lace canopy that has lavender fringe around the entire outer edge. The curtains on the windows match the lace canopy. The dresser, night stands and hutch are all finished in antique white. Guess what is on the wall opposite the bed? Did I hear you say wall mural? You are right again. This time the wall mural is called Unicorn Garden. This truly is a heavenly scene.
I hope my description comes close to the awesome beauty of this mural. I'll do my best. To begin with, this scene takes place at night. There is a Unicorn and a teenage girl with a flowing pink lace gown with her right hand on the unicorn's snout and her left hand petting the unicorn on the lower neck. They are standing under a large oak tree and in the night sky above is a bright white full harvest moon shining down upon them. The girl and the unicorn are positioned on a small strip of land between two small ponds. The moonlight transforms the scene into unbelievable deep shades of blue, purple and lavender. On the far side of the pond behind them to the left is a waterfall flowing into the pond.
In the far background on the right is a castle on a hill. Hanging from the tree branches they are standing under are artfully crafted lanterns shining brightly. In the foreground is the edge of a pond reflecting both of them in the water. On the edge of the pond to the right and to the left are wild flowers in magnificent shades of white, yellow, gold, pink, lavender, purple and blue. The ground they are standing on is a lush lawn in a beautiful shade of jade green. This full wall mural is a delightful addition to the atmosphere of the room. Nice Job! Next, we head down the hallway to Jordan's bedroom. Jordan's bedroom looks like the typical 11 year old boy's bedroom. It has the race car framed twin bed. The white walls have a checkered flag wallpaper border going around the room about 1/3 of the way up the walls.
The night stand and dresser are both finished in solid black. There are black wall mounted shelves above the headboard of the bed. These are holding Jordan's trophies he won in the Pinewood Derby. On one wall is a life-size wall graphic of Jordan's favorite NFL Quarterback. Here too, on the far wall across from the bed is, you guessed it, a wall mural. Now this particular wall mural is an artist's rendition of NASCAR racing. With smears of wonderfully brilliant pastel colors surrounding five race cars colored in radiant and pulsating hues of red, green, yellow and blue. You can feel the intense emotional excitement of actually being in the front row seat at a NASCAR race. The artist who painted this original truly brought out the heart pounding emotion associated with all the fans of NASCAR racing. This wall mural is what I like to call the perfect finishing touch to this boy's bedroom. Nice job! Now we head a little further down the hallway to Emily's bedroom.
Emily is Jake and Diane's 7 year old daughter. As we enter the bedroom I noticed a color scheme of pastel yellow with green accents in just the perfect shade of green to compliment the setting of the bedroom. Here the bed is a Hollywood style bed with an over stuffed comforter in a beautiful swirling pattern of pastel green, pink, blue and yellow. The bed is positioned in the room, sitting on a pedestal, with the head of the bed about 5 feet to the left of a window. The window treatments are shear curtains with a valance in a beautiful shade of emerald green. Here the dresser and night stand are made of acrylic in a shiny shade of pastel green. There is also a small bookshelf to the left side of the bed, matching the dresser and night stand. On the far wall opposite the bed is what puts the icing on the cake, so to speak. You know I'm talking about a wall mural perfect for a 7 year old girl. The title of this mural is Daydreaming. This is a delightful and charming scene with two field mice lying on their backs in a lush green lawn. One mouse is on the left while the other mouse is on the right side of this colorful drawing.
The adorable mouse on the lest is wearing a pastel red shirt with light blue overalls. The cute mouse on the right is wearing a lavender shirt with dark blue pin striped trousers. Both of these mice are surrounded by a field of colorful wild daisies in beautiful shades of pink and golden yellow. The entire background is a bright blue sky with billowing clouds. These clouds in the sky seen to be forming the shapes of birds, rabbits, butterflies and a castle. The entire border of this drawing is a sparsely leafed vine. The unique part of this particular wall mural is the option that you may add a short caption over the clouds in order to personalize this mural. So after a little thought Emily had the words "Daydream a Little Dream for Me" printed across the sky in letters that were filled in like a rainbow. This room is a little girl's dream. Next Jake and Diane walked me over to the far side of the hallway, over to the master bedroom. As we entered the master bedroom I noticed that the walls were painted in a light brownish grey tone.
They had a king size soft-sided waterbed sitting on a six drawer pedestal. The drawers, headboard and surrounding framework of the pedestal were finished in a brownish grey antique style with matching night stands on each side of the bed. The dresser with a large mirror and a hutch also matched the finish. There is a medium size Italian style tapestry above the headboard and two beautiful brushed pewter wall sconce candle holders on each side of the tapestry. On the far side of the room opposite the side of the room the waterbed is on, is a full wall mural. This wall mural is absolutely gorgeous. The name of this full wall mural is Tuscan Villa. This is the scenic view of the Italian countryside from the inside of an arched pillared outer terrace wall. This artist's rendition shows three arches of this pillar arched wall. The center archway is the entrance to the terrace. Just beyond the entrance, on the outside, is a fountain in the courtyard. The pillar archways on the left and on the right of the entrance have beautiful sculptured stone railings and the terrace floor is constructed of random shaped cobblestone. There are beautiful green vines climbing up the pillars and the inside arched pillar walls of the terrace are in magnificent earth tones.
Outside, just beyond the courtyard are beautiful rolling hills. Some of the hills are vineyards and some are golden hills reflecting the beauty of the bright sunshine from the mid day sun. Off in the distance is the majesty of purple mountains with blue skies above. This full wall mural is an alluring art form that takes your breath away when you enter this room. Wow, I am impressed. From here Jake and Diane lead me back to the stairway leading to the main floor. Between the living room and family room they open a door with a stairway leading to the finished basement. Next we explore the recreation room in the basement. As I enter their finished basement I can't help but notice that the walls are finished in stone and brick for the most part. Jake says that the brick and stone wall are actually faux paneling.
My reply was how real this actually looks. Along one wall is a wet bar about 15 feet long with 10 bar stools in front. The wall behind the bar is mirrored and a there is a long cabinet below the mirrored wall with liquor bottles lining the wall in front of the mirror. There is a pool table several feet over, two pinball machines and a juke box. Over in the far side of the room is a ping pong table. Over on the far wall, just past the ping pong table is a large flat panel TV mounted on the stone wall. This would have been the perfect recreation room just the way it is, but on the wall to the far side of the pool table is something that amplified the decorative atmosphere of the room. It was a full wall mural that made the room come to life. Let me begin by saying that this wall mural made the room seem much larger than it actually was. The title of this mural is Game Room. A more fitting title would be hard to find. This scene takes place in a large building. The front outer wall is an arched glass wall that must be at least 35 to 40 feet tall. Inside there are people playing pool. The pool table is in the center of the room.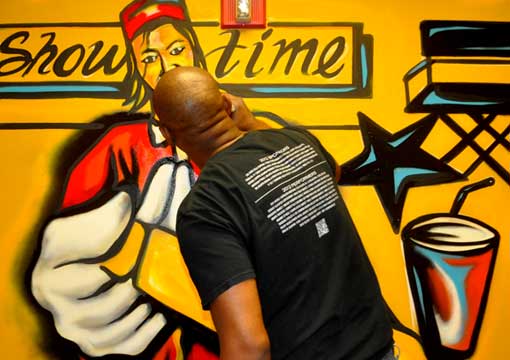 The room decor is right out of the late 1950's. There is a bar over to the right side with a tube TV inserted into what looks like a Rolls Royce grill and is turned on behind the bar on a counter. The front of the bar has the headlights and grill of a 1958 Edsel. The couches and lounge chairs around the room are made from the tail fin open trunks of cars like 1958 Cadillac and 1958 Mercury's. There is a juke box over to the right side of the room. There is a stairway heading up to the second floor with an old fashioned gravity gas pump right out of an early 1950's Mobilgas Station to the side of the stairway. There is so much detail in this full wall mural I could go on and on, but let me just say that this mural was a perfect match for his finished basement recreation room. Wall murals add extra dimension to any room. With an unlimited variety of subjects to choose from, including any picture of your own choosing, you now have the capability of transforming any room into any place or art form imaginable. If you let your creative imagination run wild, you will be able to add a magical atmosphere to any room of your home. Barbara Tobiasz is an expert in interior/exterior decorating. Along with her husband Joe, they own and operate Wall-Decor-Concepts.com. For more information on Wall Murals, go to: [http://www.wall-decor-concepts.com]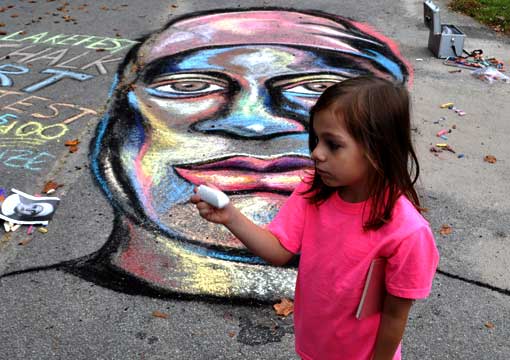 Street Art Drawing • Chalk Concrete Art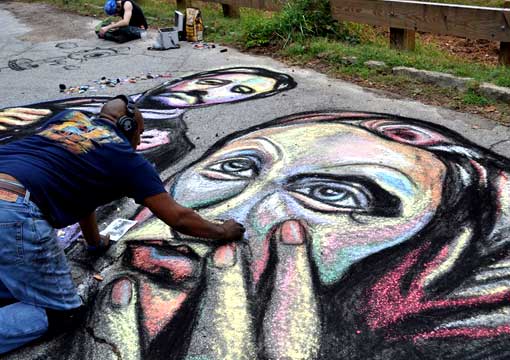 Wall Art Mural • Athens Georgia