Urban Art Atlanta Georgia Abstract Fine Art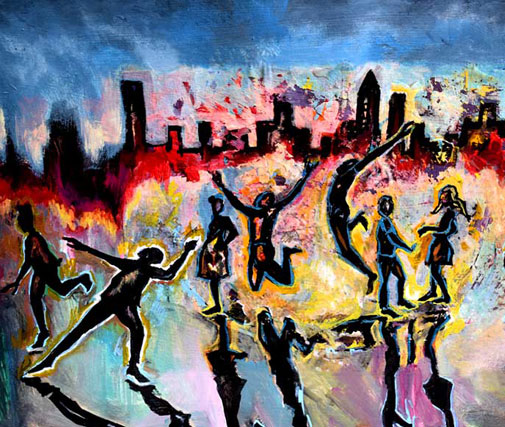 O, What a City!
Lagos.

Kilimanjaros!
refuse heaps dot the skyline
obstructing nature's lights.
Rags-to-Riches mountaineers
trampling mangled metals with jagged teeth,
picks and sacks in tow, dig their way to the summit.

Miasmas!
rotting filth
stale sweat
mingle at the market place
as feet caked in mire
come and go.

Chaos!
crammed bodies
lurch like drunkards
as
Moving Violations
snake through a plethora of craters.

Bedlam!
chariots
wait endlessly to inhale:
horns blaring
nerves frayed.

Cacophony!
chortling machines
spewing smoke into the air
light up 'rich' neighbourhoods.

The not-so-rich neighbourhoods?

semblance of hamlets:
half-clad bodies
seeking refuge from their sweltering rooms
fill up dimly lit streets,
marauding mosquitoes combated with impotent slaps.