Art Passion Live Painting • POP Art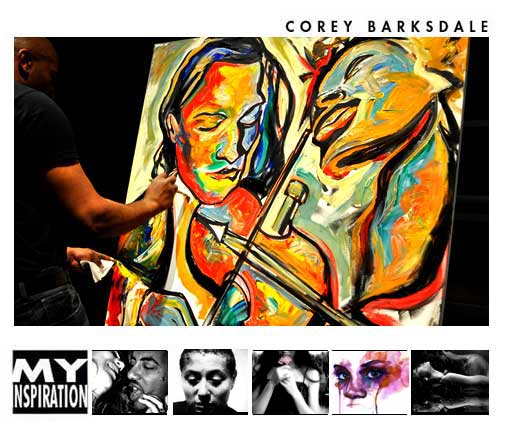 created by Alexander Stanuga in
1947
The Independent Group (IG)
Founded in London at the Institute of Contemporary Arts (ICA) initially by British advocates of Surrealism.
The group put on a pioneering exhibition at the London Institute of Contemporary Art in 1956 titled "This is Tomorrow" –– A quasi-anthropological, semi ironic but wholly enthusiastic look at the mass imagery of the early electronic age. The key Artists in the group comprised of; Lawrence Alloway, Richard Hamilton, Nigel Henderson, John McHale, Eduardo Paolozzi, Alison & Peter Smithson, Roland Penrose and Herbert Read.
1954
Flag
ARTIST: Jasper Johns (15 May 1930 – ) is an American painter, sculptor and printmaker. He began his career as a commercial artist, producing displays for shop windows. His work depicts hand painted commonplace recognisable two dimensional objects, (e.g., flags, maps, targets, numbers, letters of the alphabet) representations, depicted in simple colours.
ARTWORK: 'Flag' Encaustic, oil, pigment and newspaper collage on fabric mounted on plywood (three panels). Painting a common, instantly recognisable symbol the flag breaks with the idea of the canvas as a field for abstract personal expression, he painted "things the mind already knows." Using the flag, Johns said, "took care of a great deal for me because I didn't have to design it." That gave him "room to work on other levels"—to focus his attention on the making of the painting. The encaustic (wax) suspends the coloured pigment above the surface which is covered in a collage of newspaper clippings just legible on closer inspection.
WORLD: This image was created at a time in America when the predominant Art movement favoured Abstract Expressionism, which enthroned the bold, spontaneous use of gesture and colour evoking an emotional response.
1956
What Is it that Makes Today's Homes So Different, So Appealing?
ARTIST: Richard Hamilton (24 February 1922 – 13 September 2011 ) attended Painting classes during his teenage years before attending the Royal Academy School in London from 1938-40. From 1941-45 he worked as an Industrial Designer and in 1946 he resumed his studies at the Royal Academy School where he was later expelled for defying his teachers instructions. In 1952 he founded the British Independent Group and is considered by many to be the father of Pop Art.
ARTWORK: 'Just What Is it that Makes Today's Homes So Different, So Appealing?' This work is a scene comprised of images cut from magazines ads and re-arranged, (Collage) showing a semi-nude couple in their living space and was produced for the groundbreaking exhibition "This is Tomorrow," organized by the Independent Group at the Whitechapel Art Gallery in London in 1956. It has since been heralded as the beginning of British POP Art and the image that bestowed the name to the movement.
WORLD: The 1950s was a prosperous decade for Britain. Record quantities of imports and exports passed through London's docks. After the war the reconstruction of infrastructure was in full swing. Skilled labour was now being actively recruited from other Commonwealth countries and was helping build and staff London's new hospitals, houses and schools. This growing affluence brought a new assertiveness to young Londoners who looked to America for models of behaviour and music.
AUDIENCE: The Artwork was the advertising poster for the 1956 exhibition "This is Tomorrow" held at the Whitechapel Gallery which consisted of members of the Independent Group. The exhibition pre-empted the emergence of POP in Britain by nearly a decade.
4 October 1957
Sputnik 1 – The Space Race
Sputnik 1 was a 58 cm (23 in) diameter polished metal sphere, with four external radio antennae to broadcast radio pulses. The Soviet Union (Current day Russia) launched it into an elliptical low Earth orbit on October 4, 1957. It was visible all around the Earth and its radio pulses detectable. The surprise success precipitated the American Sputnik crisis, began the Space Age and triggered the Space Race, a part of the larger Cold War. The launch ushered in new political, military, technological, and scientific developments.
The value of Sputnik to Soviet propaganda was especially evident in the response of the American public, as it surprised the American public, resulting in a "wave of near-hysteria". Not only did Sputnik shatter the perception of the United States as the technological superpower and the Soviet Union as a backward country, as their own Project Vanguard was caught off guard by the Soviets' early launch. The satellite's launch also evoked fears that with the Soviets protruding into space would put the U.S. territory at their mercy and forced the Americans to take up a more offensive stance in the emerging space race, resulting in an emphasis on science and technological research and reforms in many areas from the military to education systems
20 January 1961
John F. Kennedy sworn in as 35th President of U.S.A
John F. Kennedy was sworn in as the 35th President of the United States of America. During his inaugural address Kennedy asked the nations of the world to join together to fight what he called the "common enemies of man: tyranny, poverty, disease, and war itself". It is also during this address that the famous quote comes from "Ask not what your country can do for you; ask what you can do for your country."
Kennedy was confidence that his administration would chart an historically significant course in both domestic policy and foreign affairs. The contrast between this optimistic vision and the pressures of managing daily political realities at home and abroad would be one of the main tensions running through the early years of his administration.
President Kennedy was assassinated in Dallas, Texas, at 12:30 pm Central Standard Time on Friday November 22, 1963, while on a political trip to Texas to smooth over frictions in the Democratic Party. He was shot once in the throat, once in the upper back, with the fatal shot hitting him in the head.
1962
Marilyn Diptych
ARTIST: American painter, printmaker, sculptor, draughtsman, illustrator, film maker, writer and collector. Andy Warhol (6 August 1928 – 1987) was a seminal figure in the Pop Art movement. More than any other Pop artist Andy Warhol presented his subject matter so as to appear so close to the original, in paintings so remote from existing ideas of composition and execution, that the work seemed to many people to be disqualified as art.
ARTWORK: Marilyn Monroe died in August 1962. In the following four months, Warhol made more than twenty silkscreen paintings of her, all based on the same publicity photograph from the 1953 film Niagara. Warhol found in Monroe a fusion of two of his consistent themes: death and the cult of celebrity. By repeating the image, he evokes her ubiquitous presence in the media. The contrast of vivid colour with black and white, and the effect of fading in the right panel are suggestive of the star's mortality.
1962
Campbell's Soup Cans
ARTIST: American painter, printmaker, sculptor, draughtsman, illustrator, film maker, writer and collector. Andy Warhol (6 August 1928 – 1987) was a seminal figure in the Pop Art movement. More than any other Pop artist Andy Warhol presented his subject matter so as to appear so close to the original, in paintings so remote from existing ideas of composition and execution, that the work seemed to many people to be disqualified as art.
ARTWORK: 'Campbell's Soup Cans' also known as '32 Campbell's Soup Cans' was first shown on 9th July 1962 in the Ferus Gallery of Los Angeles in his first one-man gallery exhibition. When Warhol first exhibited these Campbell's Soup Cans in 1962, they were displayed together on shelves, like products in a grocery aisle. The inspiration came from the Campbell's Soup Company, who at the time were selling 32 soup varieties; each canvas corresponding to a different flavour. The work comments on the notion of mass production/consumption and the commodification of everyday items. Creating the work using the method of mechanical reproduction of silk screen printing, also reflected the nature of commodification on a mass scale.
October 1962
Cuban Missile Crisis
A 13 day nuclear standoff between the United States and Cuba with the backing of the Soviet Union, considered by many as the closest point at which the Cold War came to all out nuclear war.
1963
Whaam!
ARTIST: American Pop Artist; painter, lithographer and sculptor, Roy Lichtenstein (27 October 1923 – 29 September 1997) His work defined the basic premise of pop art better than any other through parody. Favoring the comic strip with the use of Ben-Day dots as his main inspiration, Lichtenstein produced hard-edged, precise compositions that documented while it parodied often in a tongue-in-cheek humorous manner. His work was heavily influenced by both popular advertising and the comic book style. He described pop art as, "not 'American' painting but actually industrial painting". His paintings were exhibited at the Leo Castelli Gallery in New York City.
ARTWORK: 'Whaam!' (Acrylic and oil on canvas) is an eerie modern version of the battle paintings that once decorated European palaces and council chambers. It is on a grand scale, split across two panels that together measure more than four metres in width. An American fighter unleashes a spurt of fire that blows up an enemy plane, giving the pilot no chance of escape. A picture of violence, but the violence is experienced third hand. The painting is meticulously translated from a DC War comic, the ben-day dots and bold colours of the original recreated by hand on an inflated scale. Is this a celebration of boys' comics, a comment on their glorification of war, a metaphor for the chilled and mechanised nature of modern killing.
1963/4
Retroactive 1
ARTIST: American painter, sculptor, printmaker, photographer and performance artist, Robert Rauschenberg (22 October 1925 –12 May 2008) was a prolific innovator with an enthusiasm for popular culture. His rejection of the angst and seriousness of the Abstract Expressionists led him to search for a new way of painting, using materials like dirt, silk, and house paint and vehicles for applying these materials, including car tires. Rauschenberg's work moved from abstract painting to works which he called "Combines—in which he combined discarded materials and found objects to examine the intersection of art and life. "I think a painting is more like the real world if it's made out of the real world,".
ARTWORK: 'Retroactive 1' (Oil and silkscreen ink on canvas) is widely considered one of the finest of Rauschenberg's silkscreen paintings. Central to the work is an iconic portrait of President John F. Kennedy, a symbol of progress and promise. Ironically, Rauschenberg ordered the silkscreen of this image during the summer preceding the president's assassination. He overcame his initial reluctance to use it following the trauma of November 1963, in part because he was committed theoretically to a non-hierarchical interest in all phenomena in the world around him. Nothing, however, can separate the power of this image from its emblematic reading as the embodiment of a national tragedy.
WORLD: The Cuban Missile crisis was over, the Space Race was in full swing and the President JFK, had just been assassinated the previous year.
8 March 1965
First American Combat troops enter the Vietnam War
1965
F-111
ARTIST: James Rosenquist (29 November 1933 – ) Painter and lithographer and a leading figure in the American Pop Art scene in New York. During his early years in New York he supported himself by working as an industrial painter and sign painter, he was to go on to meet Indiana, Rauschenberg, Johns and Ellsworth Kelly. His early paintings were predominately Abstract Expressionist, then from 1960 he began to work with bizarre juxtapositions of fragments of immense, sometimes unrecognisable images derived mainly from advertisements.
ARTWORK: Inspired by advertising billboards and mural sized paintings, work initially began on this 68 foot long artwork during 1964. 23 panels were designed to wrap around the four walls of Leo Castelli Gallery in Manhattan. The subject of the work was the latest technologically advanced weapon in development, the General Dynamics F-111 tactical strike aircraft which he positioned, as he later explained "flying through the flak of consumer society to question the collusion between the Vietnam death machine, consumerism, the media, and advertising." The painting combines collage-like juxtaposition of fragmented imagery with a vivid palette, which identify's the artists unique style and define it within the Pop art movement.
WORLD: In 1962 General Dynamics won the US Department of Defense contract to develop a supersonic aircraft under a program called TFX. This airplane was later designated the name F-111 and would be the first in history to incorporate specific design features to make it capable of performing in multiple roles. This was to come at a time when the U.S. was heavily engaged in fighting the war Vietnam.
1967
A Bigger Splash
ARTIST: David Hockney (9 July 1937 – ) is a British Artist; painter, draughtsman, printmaker, stage designer and photographer. Currently living in Bridlington, East Riding of Yorkshire, and Kensington, London.
ARTWORK: 'A Bigger Splash' Acrylic paint on canvas 2425 x 2439 x 30 mm support depicts a splash in a Californian swimming pool. Hockney was drawn to California by it's relaxed and sensual way of life, 'the climate is sunny, the people are less tense than in New York ... When I arrived I had no idea if there was any kind of artistic life there and that was the least of my worries.' It is in this work that Hockney devises a new way of depicting water.
WORLD: During the spring of 1967 Hockney teaches at the University of California, Berkeley, but returns to Los Angeles on the weekends and it is here that Hockney discovered, everybody had a swimming pool.
21 July 1969
"Thats one small step for man..."
Neil Armstrong and Buzz Aldrin go down in history as the first men to land and walk on the moon. Many Americans sat in their lounge rooms glued to their black and white TV sets as the Apollo 11 mission touches down on the not too distant planet and ultimately winning the space race.